History of DevOps
DevOps is a collection of different software development practices that aim to bridge collaboration between software development and information technology operation teams. The goal of establishing DevOps within an organization is to shorten development lifecycles while providing more frequent updates. This allows organizations to deliver content to market faster with a lower failure rate due to increased communications. 
In 2007, agile software developers, Andrew Schafer and Patrick Debois, mused over the idea of establishing a more seamless avenue of communication between development and operations teams. The idea wasn't communicated in mass until Flickr employees, John Allspaw, Senior Vice President of Technical Operations, and, Paul Hammond, Director of Engineering, gave a presentation that had been entitled '10+ Deploys per Day: Dev and Ops Cooperation at Flickr.' Both Allspaw and Hammond asserted that the only way forward for application development was for both developers and operations teams to cooperate, creating a more integrated experience. 
This integrated DevOps experience is not merely a suite of solutions to install, although Microsoft Azure does indeed help with pre-packaged toolsets. DevOps is a philosophy and culture- a radical new way of developing software and delivering results in a timelier, and more efficient, manner. Vandis goes beyond dropping DevOps tools into the hands of our clients.  We take the time to introduce the philosophies and practices that create a strong DevOps environment. 
Benefits of DevOps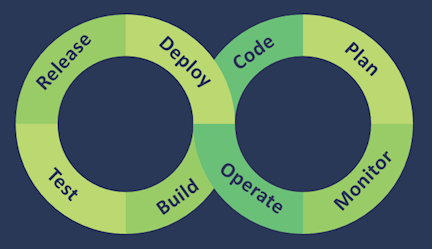 DevOps might be a fantastic software development philosophy, but how does it translate to the real world? As an organization, you might wonder what improvements and benefits you would see from implementing DevOps practices into your pipeline. Our team can help to achieve powerful DevOps strategies that observe the following benefits:
Faster Deployment: With a more efficient pipeline, developers and operation team members can work together more seamlessly, enabling your organization to deliver results faster than typical philosophies and practices.
Faster to Market: Faster deployment means a faster time to market and a better chance to gain a competitive advantage. Those who are first to market are more likely to establish stronger brand recognition and customer loyalty due to their presence.
Lower Failure Rate: With better communication between development and operations teams, DevOps can help to introduce a lower failure rate of new releases. With more frequent, smaller updates, organizations can take more minute control over the development process.
Shortened Time Between Fixes: The ability for teams within your organization to work together seamlessly leads to a decrease in common workplace obstacles. A DevOps philosophy enables quick communication between departments, allowing for issues to be identified and resolved faster.
More Time For innovation: With less time spent fixing bugs, teams who adopt a DevOps philosophy can innovate faster. Stop wasting time fixing mistakes, invest in the factors that help differentiate your product from your competitors.
Vandis' DevOps Strategy
We have Azure, infrastructure automation, and DevOps practices to best support the needs of our clients.  Our DevOps team can help your organization seamlessly integrate complex sets of security policies and tools utilizing automation, configuration management, and continuous integration workflows. This will allow you to maintain a consistent security posture across all platforms and services.
Our DevOps practice believes in the importance of creating secure and automated code pipelines, creating application security, portability, and resilience while removing the element of human error. Having infrastructure automation capabilities is vital in the process of creating a mature application environment. The ability to utilize infrastructure as code to quickly spin up or make changes to workloads allows organizations to take advantage of what the cloud has to offer.
Vandis can guide you towards building a healthy deployment and integration strategy to provide the highest quality software at the lowest cost in the shortest time.
Azure DevOps Tools
Microsoft Azure provides a variety of different tools built directly into the platform that aid organizations in adopting a DevOps approach with cloud computing. Thanks to the team at Microsoft, deploying to the cloud with a DevOps strategy has never been as easy.
Cloud Analysis with Azure Advisor
Azure Advisor helps to ensure that you are taking full advantage of your cloud configuration with analysis of both cloud resources and security. Azure Advisor helps to ensure that you are taking full advantage of your cloud configuration through analysis of efficiency, resources, and security.
Serverless Computing with Azure Functions
Azure Functions lets you run code without provisioning or managing servers. With Functions, you can run code for virtually any type of application or back-end service - all with zero administration. Merely upload your code and Functions takes care of everything required to run and scale your code with high availability. Or integrate services with triggers and bindings for more granular control. For your development team, Azure Functions supports a variety of different programing languages including .NET, Node.JS, Java, and Python - select the best option for the situation.
Containerized Applications with Azure Kubernetes Services (AKS)
AKS allows you and your team to easily deploy orchestrated containerized applications via the Kubernetes system. The process saves your team time with easier monitoring and built-in management operations available.
Code Development with Azure DevOps
Microsoft's primary offering is known as Azure DevOps, formally Visual Studio Team Services, and envelopes a collection of development and deployment features including:
A fully managed CI/CD build service that compiles source code, runs tests, and produces software packages that are ready to deploy on individual hosts or Kubernetes.
Automated code deployments to any instance, and on-premises servers. Your organization can reduce downtime while also rolling back deployments if errors are discovered.
A continuous integration and continuous deployment service for fast and reliable application and infrastructure updates.
With this service, you can automate release processes with consistent results and spend more time focused on a positive experience for your userbase.
Azure Site Recovery
Microsoft offers the Azure Site Recovery service which can help ensure that businesses stay up and running during potentially risky outages. Site Recovery places allows your apps and workloads to fail over to a secondary location if such an outage occurs. Azure recovery services also offer a backup service for keeping your data safe in the cloud.
Azure Virtual WAN
Microsoft's Azure Virtual WAN solution allows for organizations to remain connected with Microsoft's global network. Use a single point of access to deploy, manage, and monitor Azure virtual networks, as well as sites.
VMware Hybrid Cloud
VMware enables organizations to create a common operating environment across clouds with its VMware Hybrid Cloud solution. Available on Microsoft Azure, you can manage and run VMs across the cloud in a secure and easily management fashion.
Visual Studio
The powerful development environment, Visual Studio, is taken to the next level when paired with Microsoft Azure. Easily publish to Azure improvements for .NET Core target App Service, Linux, and utilize production diagnostics on live services without impact.
Vandis' DevOps Capabilities
From strategy consulting to secure pipeline deployment to version control, the engineering team at Vandis can help to assure your DevOps adoption with Azure is as smooth as possible. Whether you need a helping hand or a complete strategic solution, Vandis is here to help.

DevOps Strategy Consulting: If you're on your way to infrastructure as code, continuous integration/continuous delivery, or leveraging serverless solutions for self-healing applications, we can act as a sounding board and offer our insight across what we have seen in the industry – we are here to assist your team along the way and decrease uncertainty.

Secure Pipeline Deployment: When you're managing multiple environments within a development cycle, it can be difficult to reliably and securely promote code between domains. The engineers at Vandis can help to assure that pipeline deployment is no longer a question mark when it comes to security. Keep your projects secure, no matter where they lead.

Application Refactoring for Cloud: The job isn't fulfilled when the lift-and-shift operation is complete. Once your infrastructure is in the cloud, the next step is breaking apart monolithic. We can help identify, quantify, and execute application transformation, allowing your organization to adapt to uncertain futures.

Version Control: Whether an on-premise or in a cloud repository, all configurations and changes that are made will be checked in and out to provide a documented process of what files have been made or modified over time. Version Control creates a recovery opportunity if there is a problem with the code, allowing it to be rolled back to a previous version; this will enable you to identify when the issue had developed initially. 
Top Azure DevOps Technology Partners