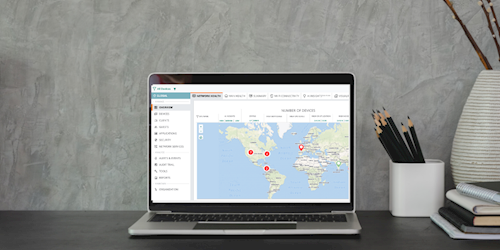 Aruba Central is a cloud-based network management solution that offers built-in analytics for actionable network and business insights.
Aruba Central helps simplify the deployment, management, and optimization of wireless, wired, VPN and WAN environments. Its smart workflow driven features helps deliver a better management platform, provide key insights, and save time and resources for an organization. With this intuitive platform and Zero-Touch Provisioning, an IT staff can focus less on the managing of the infrastructure and more on creating value for the business.
Key Features of Aruba Central
Cloud-based monitoring and control
Streamlined onboarding and deployment
Advanced analytics and assurance
Wi-Fi, wired and SD-WAN support
These features work together to save time and improve network performance. Let's take a deeper dive into the features of Aruba Central and how they can help better manage your infrastructure.
Unified Infrastructure Management and Network Operations
With a setup wizard, Zero-Touch Provisioning, and a mobile installer app, getting started is just the beginning of a unified approach to infrastructure management.
Once your network is up and running, centralized monitoring and controls gives you a look into the overall health and operation of your environment via a map or grid view. You can toggle your view at the device level for context-based visibility or view and configure all of your network operations at once.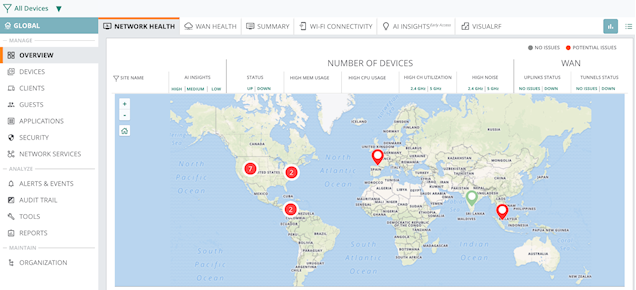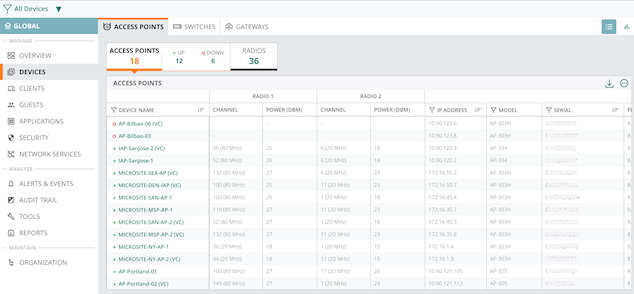 Advanced Analytics and In-Depth Troubleshooting
With AI-powered continuous monitoring, Aruba Central offers real-time visibility and is always learning to provide digestible information about a complex environment. In doing so, the platform can generate comprehensive alerts for device connectivity, network health, and user activity.
To truly understand your application health, throughput, and data usage, Aruba Central also provides a number of scheduled and on-demand reports. These can be used as a catalyst to troubleshoot, learn, and improve.
SD-WAN Orchestration & Management
With Aruba Central, your team can manage SD-WAN infrastructure and route traffic appropriately. Workflows also exist that give device-specific configuration information so you can improve user's experience. Additional features give graphical representation of gateways, provide application performance scores, and manage routing preferences across multiple branches or locations.
Cloud Security & Reliability
Reliability and security are likely your two highest cloud priorities. Aruba Central has a web-scale database design for responsive performance no matter how much data you are working with. It's hosted from multiple data centers to ensure performance and backed by certificate-based authentication for the highest level of security.
All of these features make Aruba Central a great choice for organizations looking to simplify network management. For more information about Aruba Central, read through their solution brief here. For more information about implementing Aruba Central in your organization, please reach out to Vandis at (516) 281-2200 or info@vandis.com to speak with one of our experienced Mobility Engineers.