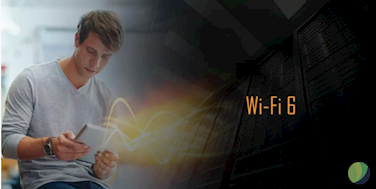 Organizations consistently look for simplistic network operations, improved service reliability, and automated controls to enhance the user experience. This webinar with Aruba Networks provides a detailed overview of how the newest launch in wireless technology – 802.11ax, or Wi-Fi 6 – is able to deliver significant upgrades over its predecessor (802.11ac or Wi-Fi 5) across each of these areas.  Throughout the session, you will discover more about these differentiators between Wi-Fi 6 and Wi-Fi 5.
Wi-Fi 6 functions on both the 5 GHz and 2.4 GHz bands, while Wi-Fi 5 is only on 5 GHz. Many IoT applications operate on the 2.4 GHz band, meaning they could not reap the full benefits of Wi-Fi 5. Another key feature that sets Wi-Fi 6 apart is the number of client devices that can simultaneously communicate with the Access Point (AP). Because it is enhanced with Orthogonal Frequency Division Multiple Access (OFDMA), Wi-Fi 6 can support up to 37 clients connecting to one AP at the same time. This number is a huge jump from Wi-Fi 5's maximum of 4 clients.
Aruba's current hardware portfolio features 4 Wi-Fi 6-compatible AP series: 500 Series, 510 Series, 530 Series, and 550 Series. The 500 and 510 Series APs are best for the most common use cases, such as classrooms and offices. The 530 and 550 Series APs are for very high to extreme density use cases, such as auditoriums and stadiums. Below is the current Aruba hardware portfolio, which also includes the 300 Series devices that are Wi-Fi 5-compatible.
Throughout this webinar session, we will dive deeper into the above differentiators and explore other ways that Wi-Fi 6 can help enhance your organization's network. As one of Aruba's longest-standing channel partners, Vandis has the necessary expertise to help your organization upgrade to a Wi-Fi 6 wireless network. For more information, please contact us at (516) 281-2200, or info@vandis.com.