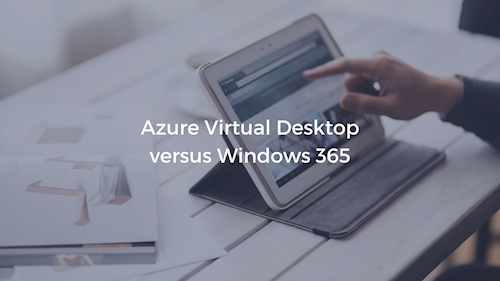 Remote and hybrid work environments are on the rise. Last year, in response to the growing need for flexible workspaces, Microsoft introduced Windows Virtual Desktop, a full suite Virtual Desktop Interface, that integrated seamlessly with Microsoft's Modern Workplace and could be built on Azure for role-based access control (RBAC) and cost control. Realizing that Windows Virtual Desktop was not the best fit for all customers, Microsoft broke the product out into Windows 365 and Azure Virtual Desktop. While each experience is still seamlessly integrated into the Microsoft technology suite, there are key differences that help different sets of customers.
What is the Difference between Windows 365 and Azure Virtual Desktop?
Windows 365 is a cloud-based service that lets organizations offer their employees a full Windows OS experience over the internet. It allows IT admins to create dedicated personalized Cloud PCs without having to manage an Azure infrastructure.  This product addresses a need in the market for a desktop virtualization infrastructure (VDI) that leverages existing resources such as Windows 10 licenses, the Microsoft Endpoint Manager portal, and Windows apps. It was designed with 'simplicity' in mind, to give a personalized Windows experience on any device.
But if you are looking for flexibility across your VMs, storage, networking, profiles, and costs, Azure Virtual Desktop is likely a better fit for your organization. Azure Virtual Desktop is a configurable cloud-based service that offers IT departments maximum control over their virtual desktop infrastructure. It uses Azure's autoscaling and pooled resources to create a highly customizable VDI environment for reduced costs, as compared to on premise VDI solutions and Windows 365. 
Let's take a look at where each solution makes sense
Windows 365
10 or fewer desktops are needed
No plans to build an Azure infrastructure – Windows 365 is built as a SaaS within Azure needing no further architecture, though admins may want to look at Microsoft Endpoint Manager for their security needs
No prior VDI experience – Windows 365 is simpler to deploy and manage
Local admin rights – Windows 365 lets the user use the Virtual Desktop like their own personal Cloud PC
Users need dedicated desktops for more than 55 hours a week or 24/7 access – Because Windows 365 licenses are purchased as a monthly subscription, Windows 365 is not impacted by user resource consumption, making it in this scenario a more cost-effective option that is easier to deploy and manage
Azure Virtual Desktop
Diversified monthly use – If you have a variable number of users per month, such as outside consultants or seasonal workers, AVD could save you money because you only pay for what you use.
Need to use custom-built apps – Windows 365 offers a standardized set of apps to deploy, whereas AVD allows you to use any set of apps, even custom-built apps for Windows environment.
Lock RBAC on the VDI instances – AVD allows you to set up groups with tiered permissions.
Opportunity to save money – Because AVD costs are determined by the number of concurrent users, pooled AVD desktops can range from 50-60% cheaper than Windows 365, and auto-scaled personal AVD desktops can be ~10% cheaper than Windows 365, as long as the desktops are used less than 50 hours per week.
If you need additional assistance evaluating which virtual desktop solution is right for you, feel free to reach out to us. Vandis is a Microsoft Gold Partner in Cloud Platform and Productivity with Advanced Specializations in Azure Virtual Desktop and Networking. With our extensive experience modernizing remote work, Vandis can provide you with a virtual desktop infrastructure solution that aligns with your current needs and future growth. Contact us at cloud@vandis.com or reach out to your account manager to meet with one of our cloud experts.