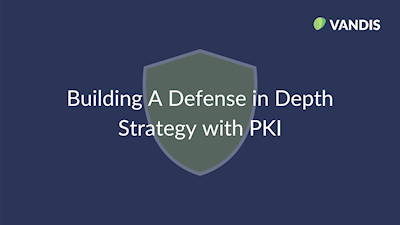 We can't emphasize enough the importance of a defense in depth strategy -- it's becoming a necessity as advanced attacks evolve in complexity.
A prime example of this is seen in SSL encryption and decryption. While it's an effective tool for securing incoming and outgoing traffic, it's no longer enough on its own. Attackers can leverage SSL encryption to disguise threats and pass them through a firewall.
The only way to catch such attacks is to enable SSL inspection, which requires the ability to decrypt and re-encrypt SSL traffic.
Create the Systems Needed for Secure, Optimal Performance
One element to improving security posture is putting the right systems in place to encrypt and decrypt data. The importance of SSL decryption and re-encryption is widely understood, yet it's something that remains a challenge for many security teams.
That's because in order to perform these tasks, organizations need to have a trustworthy Public Key Infrastructure (PKI) in place. PKI can be an integral part of an organization's security foundation by creating trusted communication paths to validate devices and protect data. By providing 3 trust services, PKI is able to help protect data in flight:
Confidentiality: Assurance that data is encrypted
Integrity: Confidence in knowing that if data were tampered with, it would be known
Authenticity: Certainty that who/what you are connecting to can verify your identity
Improve Overall Security Posture
While each organization has its unique challenges and priorities, it's clear that improving security posture and minimizing the threat landscape is a top concern across the board. It's just a matter of knowing what pieces of the puzzle your organization needs and how to put them together.
Data encryption and decryption may seem like the obvious first step, but it requires extensive knowledge of PKI and a very specific skillset. That is why many organizations need assistance putting a PKI strategy in place or optimizing their existing one.
Once a PKI strategy is in place, it's time to establish best practices for encryption/decryption utilizing technology like NGFWs or F5's SSL Orchestrator. Attempting to deploy this technology without proper experience could leave your organization vulnerable to costly security gaps.
While there are many steps to improving your overall security, the team at Vandis has extensive security experience to act as your trusted advisor and minimize your threat landscape.
From consultation to implementation and management, we're here to assist in the way that works best for you. Fill out the form below with a little information about your security goals, and a Vandis security expert will help you from there.