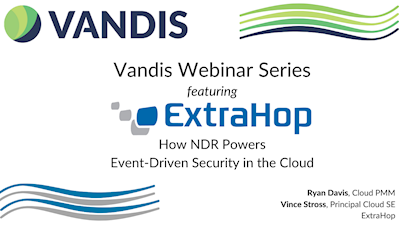 In the past decade, IT security has focused on protection and prevention solutions for the traditional perimeter and endpoint devices. However, threat actors are adapting their attacks by disabling agent-based security and targeting cloud services with ransomware. These new threats have forced organizations towards investing in cyber analytics and visibility solutions so they can be better prepared to detect-and-respond to threats.   
In this webinar session, we take a deep dive into ExtraHop's Network Detection and Response (NDR) solution. This solution helps organizations by analyzing all traffic coming in and out of the network to provide real-time threat detection, response automation, and security investigation tools.  
During this presentation we will review how your organization can leverage ExtraHop NDR to: 
Enable

 

visibility into layer 2

 

through

 

layer 7

 

with application layer decoding

 

A

nalyz

e

 

and

 

decrypt

 

all transactions

 

in

 

real

 

time

 

that are

 

happening

 

on

-

prem and in the cloud

 

Apply

 

machine learning to improve d

etection and

 

i

nvestigation

 

of

 

real time threat

s

 

 

Integrate with cloud native tools to provide automatic res

p

onses to threats

 

Utilize

 

traffic packet mirroring (virtual taps) to route copies of traffic from the public cloud to

 

ExtraHop's

 

monitoring instances

 

Take advantage

 

of

 

the

 

cloud for

 

instant deployment, auto discovery, and

 

workload classification 

 
Fill out the form below to watch the full webinar session, which includes a short demo of the solution. 
Vandis' team of expert engineers has extensive experience with both cloud architecture and network visibility solutions. For a free consultation on how Vandis can assist your security team, contact us at (516) 281-2200 or info@vandis.com.