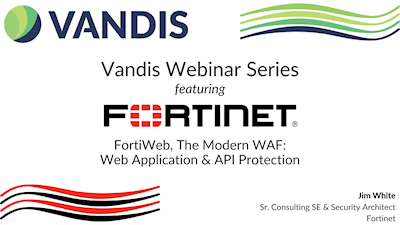 As e-commerce steadily grows more ubiquitous – from websites having digital storefronts, to restaurants taking online orders -- Web Application Firewalls (WAF) have become increasingly important as a first line of defense for critical business assets. Fortinet is one WAF manufacturer that has worked to stay ahead of the curve by incorporating artificial intelligence (AI) and machine learning to take the traditional WAF to the next the level with their FortiWeb solution. 
While traditional WAFs block malicious traffic, they can also unintentionally block some legitimate traffic, creating the need for ongoing troubleshooting and fine tuning. This cycle of working to reduce false positives can be time consuming for software developers and WAF administrators. FortiWeb's dynamic learning capabilities enables it to identify the differences between "good" and "bad" traffic, saving your organization time and resources. 
In this webinar, we cover how FortiWeb can help streamline processes around web application security in both your on-prem and cloud environments by: 
Using

 

deep learning

 

capabilities to

 

i

ntelligently address

 

common

 

challenges

 

which ar

ise

 

when deploying web-facing applications

 

Building

 

a

 

continuously

 

learning

 

AI model from a relatively small sample size

 

that

 

protect

s

 

against zero days

 

and minimizes false positives

 

Enabling any deployment type needed, from

 

on-premise

 

hardware to cloud-native SaaS offerings in

 

AWS, Azure,

 

or

 

Google Cloud Platform

 
Fill out the form below to view the full webinar:
Fortinet is a long-standing partner of Vandis and we have  knowledgeable Fortinet Subject Matter Experts on our in-house engineering staff. If you'd like to speak to the Vandis security team about FortiWeb or other WAF solutions for your organization, please contact us at (516) 281-2200 or info@vandis.com.