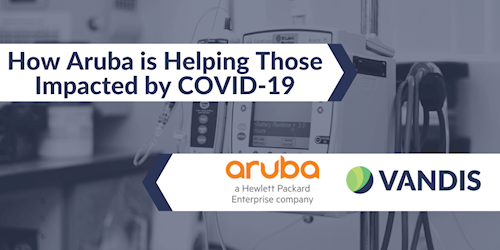 By now, the COVID-19 pandemic has completely changed the way we live and work. Not only are businesses adapting to operating remotely, some companies are now tasked with how best to support their customers as they strive to maintain business continuity. 
One of our partners, Aruba Networks, is working tirelessly to provide business continuity solutions to their customers. But they aren't stopping there – here are some ways Aruba is going above and beyond to help those impacted by the COVID-19 pandemic: 
Payment Relief Program
In order to help businesses get the technology they need during this financially challenging time, Aruba has set up a program to defer or reduce up to 90% of expenses on qualifying purchases until 2021. From now until July 30, 2020, customers can pay 1% of the solution value monthly for 8 months on a full portfolio of HPE Servers & Systems, Networking and Data Storage hardware. They are also offering discounts on non-hardware item bundles to address all company needs during this time. To learn more about deferring or reducing expenses, contact us. 
Rapid Response Healthcare Support
Temporary healthcare facilities have been created to deal with the increased need for medical care. Aruba is donating thousands of secure connectivity kits to pop-up clinics, testing sites, and temporary hospital facilities throughout the United States, Canada, UK, and EU.  
They are currently offering two bundles: An outdoor Wi-Fi solution for smaller sites within 100m of an existing WLAN, and an extended range outdoor Wi-Fi solution for larger sites beyond the 100m range.
Learn more about the healthcare connectivity bundle.  
Airheads Volunteer Corps
The Airheads Volunteer Corps is a registry of volunteer network engineers who assist in the build out of network infrastructure for medical facilities battling the pandemic. These volunteers play a crucial role in getting healthcare facilities set up and running quickly. Aruba facilitates the Airheads Volunteer Corps by connecting those in need of immediate IT skills with the right available engineer. Learn more about the Airheads Volunteer Corps.  
If you are a network engineer who is willing and able to help, you can register here.  
Aruba IAP-VPN Licenses
Aruba is giving 90-day, no obligation access to IAP-VPN licenses. These are ideal for remote sites with more than one wireless AP and extends VPN services to cloud and on-premise managed Aruba Instant and Unified APs. This technology enables people to work, access secure records, and communicate reliably, while remaining in compliance with IT security policies. Learn more about Aruba IAP-VPN Licenses. 
Remote Access Point (RAP) Licenses
Aruba is also offering 90-day, no obligation access to Remote Access Points (RAPs). These give your employees the ability to work from home or other temporary workspaces with instant access to existing SSIDs, Intranet, network printers, and more – without the need for onsite configuration. Learn more about Remote Access Point Licenses.  
Aruba VIA Licenses
Lastly, Aruba is offering 90-day, no obligation access to Aruba VIA licenses for employees, contractors, or students who need to connect to public or private WLANs. Using iPhone, Android, Windows, Mac, or Linux devices, users can access enterprise resources hosted in secure locations. Learn more about Aruba VIA Licenses. 
As a long-term partner of Aruba, we are happy to use our experience with these solutions to help our clients get up and running as soon as possible during this difficult time. We can help you figure out the right solutions to fit your need and create an action plan that works for you. To get started, reach out to info@vandis.com