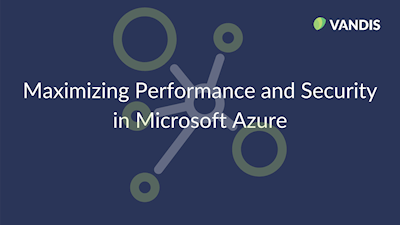 As organizations continue their digital transformation, many are realizing that their networks are not optimized to handle the complexities of having their workloads in the cloud. Additionally, new security threats and performance issues are arising as organizations move their mission-critical data into the cloud and distribute it across sites.
Recognizing this challenge in a number of our clients, Vandis has developed numerous solutions to improve the performance of hybrid networks. Having launched some of the first MSP offerings around SD-WAN on the Azure Marketplace, Vandis can help organizations improve security and performance of hybrid environments by leveraging SD-WAN and Microsoft Virtual WAN.
SD-WAN and Microsoft Virtual WAN synergistically benefit organizations to address their challenges with digital transformation and expansion. Virtual WAN adds to the benefits of SD-WAN by delivering advantages such as:
Integrated connectivity solutions that automate configuration and connectivity between on-premise and Azure environments
Simple management of globally-distributed applications
Visibility into end-to-end traffic flow within Azure for intuitive troubleshooting
Vandis' participation in the Microsoft Networking MSP program has given us the ability to combine our experienced managed services team with market-leading cloud solutions and the flexibility and reliability of Azure's cloud platform.
Here are some of our combined SD-WAN and Virtual WAN offerings now available in the Azure Marketplace that can help organizations achieve a uniform, optimized network between premise and cloud environments.
Vandis Managed Virtual WAN Powered by Fortinet Secure SD-WAN
Fortinet utilizes their Security and Networking stack within the Azure network architecture to accommodate the traffic between premise locations and the Internet. Fortinet's Secure SD-WAN allows users to leverage existing Fortinet firewalls, making it an efficient choice for managing traffic and protecting against exploits and malware.
FortiGuard Labs provides continuous threat service while the SD-WAN solution ensures low-latency, secure L7 routing intelligence . Fortinet also includes advanced capabilities such as forward correction to compensate for packet loss and WAN optimization capabilities. Forward Error Correction (FEC) allows for better control of errors in data transmission because it eliminates the need for re-transmission of data when errors are detected – this improves latency issues and prevents delays.
With fast application steering and low performance degradation, Fortinet can deliver fast SD-WAN performance with security.
View the full offering in the Azure Marketplace: Vandis Managed VWAN Powered by Fortinet
Vandis Managed Virtual WAN Powered by Barracuda CloudGen WAN
Barracuda CloudGen WAN provides a secure way to connect branch sites and cloud environments while optimizing connection to the Azure Virtual WAN and Microsoft Global Network. Once an Azure Virtual WAN hub is set up, standing up the CloudGen WAN requires little to no configuration for end users.
Built as a native SaaS offering, CloudGen WAN provides a fast, easy, and secure SD-WAN solution that is accessible from any region, is centrally managed, and can provide some of the best performance for cloud and SaaS applications.
With applications protected via the CloudGen Firewall at branch sites, it ensures traffic doesn't have to be backhauled for security policies to apply.
View the full offering in the Azure Marketplace: Managed VWAN Powered by Barracuda CloudGen WAN
Vandis Managed Virtual WAN Powered by Silver Peak
Silver Peak offers a business-driven SD-WAN solution, meaning your business priorities are reflected in the way the network behaves. Automation advancements and machine-learning drive continuous improvements and applies them to your network.
Silver Peak unifies SD-WAN through their EdgeConnect platform, which connects firewall, SD-WAN, segmentation, routing, optimization, visibility, and control through a single pane of glass.
View the full offering in the Azure Marketplace: Managed Virtual WAN Powered by Silver Peak
Backed by Vandis Managed Services
An additional advantage of these solutions is that they are backed by Vandis' Managed Services. As a Microsoft Networking MSP, Vandis brings a white glove service to implement and provide ongoing optimizations for your Virtual WAN and SD-WAN environment.
The Vandis networking and security team is extensively trained in these technologies and can utilize their expertise to monitor your network, detect potential issues, and act quickly to resolve them.
To learn more about which hybrid networking solution is right for your organization, view the offerings directly in the Azure Marketplace or reach out to a Networking specialist at Vandis at info@vandis.com or 516-281-2200.