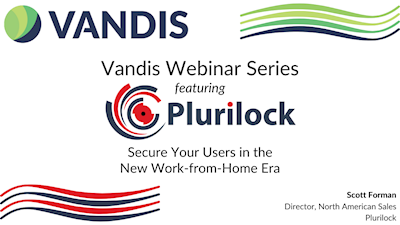 In the efforts to continually secure networks and users, Multifactor Authentication (MFA) provides an additional layer of security for many organizations. However, this extra layer of security can lead to increased work for your security team and disruption for the end user. In this webinar, you will learn how Plurilock provides frictionless MFA and continuous authentication for your cloud, endpoints, and IT infrastructure by using behavioral biometrics to approve a user through their Defend and Adapt solutions. 
Behavioral biometrics aim to continually authenticate users throughout their session based on their unique and measurable traits such as their typing patterns and mouse movements. Plurilock ADAPT takes this a step further by adding environmental and contextual identity factors to maintain a unique profile of each user's identity. Plurilock DEFEND monitors all these factors, so users are continually authenticated in real time. 
 
During this webinar session, we discuss how Plurilock MFA uses the following checks to ensure that there are no cracks in your security: 
Human

 

check – This verifies that the activity is being done by a human and not an unauthorized script. It also ensures that the person logged in is who they claim to be.
Continuous check – This ensures that it is the right person at the time of log in and for the duration of the time

 

the user is

 

logged in.

 

Compliance check – This keeps a moment

-

by

-

moment record of the checks, to make sure that they are defensible.

 
Fill out the form below to watch the full webinar:
Plurilock is an emerging partner of Vandis and our team of security engineers have extensive experience providing MFA technology as an additional layer of security for our clients. For a free consultation on how you can implement or improve existing MFA technology in your organization, contact us at (516) 281-2200 or info@vandis.com.