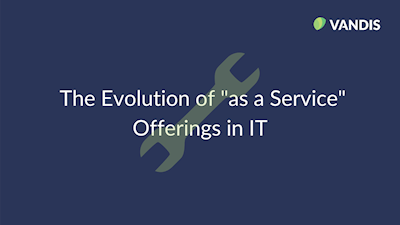 It seems like a new "as a Service (aaS)" offering is emerging every day and disrupting the way organizations handle their IT needs – usually, for the better. 
Adopting an aaS model frees up internal IT resources, allowing them to focus on high-priority areas and customer-facing items. It can also create more predictable IT expenses to help companies optimize their budget, while also typically offering the flexibility to scale up or down as needed. This allows organizations to take a proactive approach towards their IT needs and overall business strategy, rather than reacting to issues or needs as they arise. 
"As a Service" has come a long way since its inception, evolving to meet changing needs.  
Looking Back at aaS Offerings
As a Service has existed since computers were first used. But the model really took off in the 2000s with the introduction and widespread adoption of the modern cloud. 
In the beginning of aaS' rise to popularity, most offerings fell into three main categories: 
Software as a Service (SaaS) - Software that's available over the internet via a third

 

party

 

Platform as a Service (PaaS) - A combination of hardware and software tools that's available over the

 

internet

 

Infrastructure as a Service (IaaS) - Pay-as-you-go services such as storage, networking, virtualization, data centers, etc.

 
Evolutions and Trends in aaS Offerings
As the internet improved in efficiency and speed, platforms were able to lift bandwidth limitations and more reliably host business processes. That, paired with increased cost efficiency and improved performance, caused exponential growth in aaS offerings. 
Now, solution providers are leveraging cloud adoption to apply the principles of traditional aaS to their specific solutions. This trend has resulted in the vast expansion of tools available in an aaS model. Some aaS offerings that are gaining popularity include: 
Firewall as a Service

 

– Gain comprehensive protection services

 

with simplified management and complete visibility.

 

For example, Palo Alto Networks' Prisma Acces

s

 

and Fortinet's

 

FortiS

ASE

 

a

re

 

completely cloud-delivered

 

solutions 

that provides a full spectrum of

 

security

 

services

.

 

SIEM as a Service – Meet compliance requirements, reduce impact of security events, and have better control over reporting, log collection, and analysis.

 

Vandis' SIEMaaS

 

delivers real-time correlation and enrichment to provide a comprehensive view of your security.

 
SD-WAN as a Service – Improve productivity, unify branch networks, and scale networking efforts based on your current needs.

 

Through

 

the

 

Microsoft Azure

 

marketplace, Vandis has

 

SD-WAN offerings

 

with

 

a number of

 

partners to meet your speci

fic networking needs

. 

 

Switching as a Service –

 

Get better flexibility of your traffic flow

 

and improve network access control. For example, Aruba Networks

 

delivers a portfolio of switches

 

that can be managed

 

on the

 

client's

 

behalf

 

by

 

Aruba

 

badged

 

networking

 

experts

 

or your Managed Services organ

ization

.

 

 

Networking as a Service – Vandis packages

 

all of

 

the above

 

into

 

a single

 

NaaS

 

offering designed to

 

help organizations

 

maintain

 

a predictable IT budget

,

 

free up resources to focus on strategic goals

 

and

 

provide

 

top tier

 

security and infrastructure

 

support.

 
Finding the Right aaS Offering for Your Organization
As you can see, aaS has come a long way since its inception. With so many choices, it's best to have expert guidance to help you determine which aaS is right for your organization. Our Managed Services team can provide a free consultation to assess your needs and create a tailored plan based on your goals and budget.  
Get started today by calling 516-281-2200, emailing info@vandis.com, or filling out the form below: