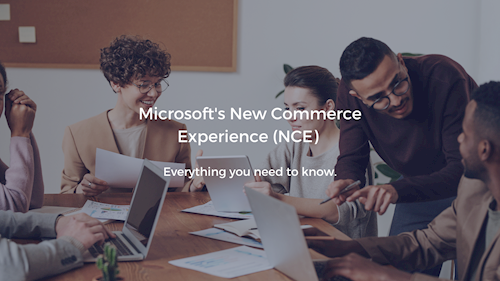 On January 10th, Microsoft launched the New Commerce Experience. The New Commerce Experience (NCE) is a 'per seat' model for Microsoft 365, Dynamics 365, Windows 365, and Power Platform subscriptions. If you are not already familiar with NCE, you are probably wondering what's the difference from the legacy program and how does it impact you? Vandis recently held a webinar for its clients to help break it down and has summarized the program in this post. 
NCE changes how customers will purchase and manage new and existing license subscriptions. The new program is meant to reduce complexity and offer cost savings for annual and multi-term subscriptions. But NCE also comes with a price increase, the first increase in a decade and ranges from 10-25% based on SKU. Price increases will go into effect on March 1, 2022. 
How can you avoid the initial price increase? 
From January through March, Microsoft is offering a 5% discount for annual NCE subscriptions. By committing before the end of March to an annual subscription, you can take advantage of the promotional discount, while also avoiding the price increase. A promotion is also available for monthly subscriptions, through the end of June, at the regular annual term price, instead of the 20% higher price point. The promotions will apply to new commerce seat-based commercial subscriptions of up to 2,400 seats. Windows 365 subscriptions will not be eligible for these promotions.  
Knowing your subscription options and when to commit 
Microsoft NCE includes 3 different subscription options for new and existing licenses and understanding which option fits within your organization's needs is key. For some, it may be ideal to take advantage of a combination of these options to optimize licenses across your organization. So, let's take a closer look at each one. 
Monthly subscription provides flexibility 
The monthly subscription option lets you purchase your Microsoft licenses on a monthly basis without an annual commitment. With this option, you can add licenses during the month's term and decrease licenses at the end of the month's term. It is a more flexible option for customers who may need to make regular changes to their license plans and seat count. This subscription option comes with a premium 20% price increase across all license plans.    
Annual subscription locks in savings 
With an annual subscription, you are committing to a 12-month term in which you can increase your licenses at any time during the term but can only decrease licenses at the end of the term. It comes with both monthly and annual billing options. The clear benefit of this option is you are locking in a discounted price (versus the premium 20% price increase of the monthly option) for the entire 12-month term, avoiding any price increases during that time, for the tradeoff of less flexibility.  
Multi-year (3-year) subscription for greatest savings 
Later in 2022, Microsoft will introduce a multi-year term to the NCE program. This new term will allow you to secure current pricing for 3 years. Like the other options, you can increase your licenses at any time during the term but can only decrease licenses at the end of the 3-year term. This option comes with monthly, annual, and upfront billing.  
For existing customers, knowing when to transition from the legacy program to NCE may require additional review. For instance, it could be advantageous to migrate to the NCE program before your legacy subscription expires, to lock in your pricing before the March 1st price increase. The timing of your renewal is just as important as the subscription model that you ultimately select, to ensure you are paying for the licenses that you need, and when you need them. 
Key dates to be aware of  
January 10, 2022: The NCE program launched with availability of promotional pricing.

 

March 1, 2022: Price increase for all Microsoft 365 licenses. 

 

March 10, 2022: All new subscriptions must be purchased through NCE. 

 

March 31, 2022: Last day of the annual

5% discount

promotion offer.

 

June 30, 2022: 

Last day of the monthly promotion offer.

July 1, 2022: 

All renewal subscriptions must be purchased through NCE.
How Vandis can help 
Whether you will be purchasing new licenses or renewing your existing subscriptions, Vandis can advise you on a licensing structure that optimizes costs and aligns with your organization's short- and long-term needs. Vandis is a Microsoft Gold Partner in Cloud Platform and Productivity with Advanced Specializations in Networking and Azure Virtual Desktop. To speak with a Microsoft licensing subscription expert, contact us at cloud@vandis.com.