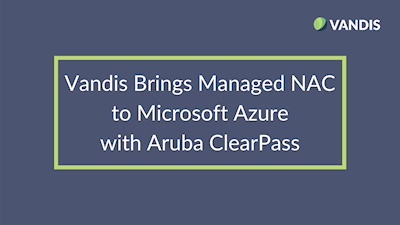 We are pleased to announce the expansion of our Microsoft Azure Marketplace Offerings with the addition of Managed Network Access Control (NAC) powered by Aruba ClearPass Policy Manager. As a recognized Managed Service Provider (MSP) in the Microsoft Azure Lighthouse program, we leveraged our NAC and Azure expertise in this unique offering to reduce branch authentication latency and enhance the end user experience.
As part of this offering, the Vandis team will configure ClearPass within the Azure environment to securely authenticate wired and wireless devices for an organization's employees and guests. For organizations with an existing NAC configuration, our Networking and Security specialists will review, optimize, and migrate policies into their Azure environment.
Read the full press release here.