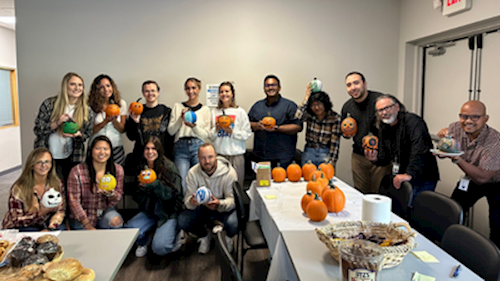 Engineers, sales reps and the like came out of the woodwork last Wednesday for Vandis' first Bring on the Fall event at our headquarters in Albertson, NY. For many who work primarily at home or in the field, this was a rare opportunity to reconnect with their fellow co-workers. Others who joined the Vandis team during the pandemic finally had the chance to put faces to names of peers whom they'd only known as an email signature or avatar.
In true autumnal spirit, employees gathered in the breakroom to flex their creative muscles and paint pumpkins. But only three would win best design, adding a competitive element which facilitated plenty of tongue-in-cheek smack talk and lots of laughs. Some took the spooky approach with their designs, while others paid tribute to their favorite sports teams, and some simply improvised.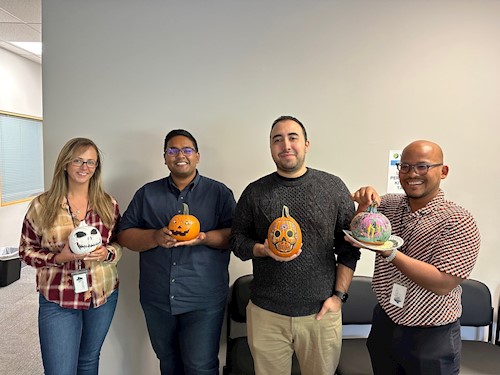 After all designs were complete, it was time to vote. Each employee got three votes for their favorite pumpkin designs. Tied for 3rd place was Strategic Account Manager Matt Mon (far right) and Engineering Logistics Coordinator Nathaniel Ramdhany (middle left). Nathaniel went for the classic jack-o-lantern design with few personal touches, while Matt took a more abstract approach. The tie was broken with applause in Matt's favor, but the winner is still hotly contested!
Coming in 2nd place with her tribute to Jack Skellington was Strategic Account Manager Meghan Rice (left), and taking 1st was Client Support Manager Dan Agudelo (middle right) with his Dia De Los Muertos design.
This was our second event organized by the Vandis Fun Committee and there are many more to come!