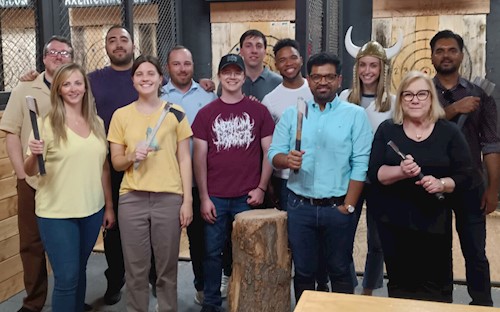 Kicking off the summer season strong, the Vandis team left their home offices and gathered for axe throwing and human foosball at Axe Kicking Entertainment in Mineola, NY. This was the second annual Summer Kickoff event hosted by the Vandis Fun Committee.
After a quick safety brief, Vandis team members got to sharpen their axe skills with some free-throws. Some were hesitant to throw at first, but when it came time to compete, everyone's inner lumberjack awoke.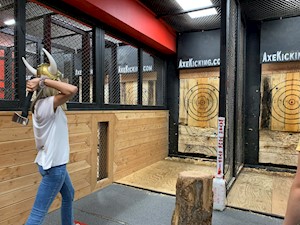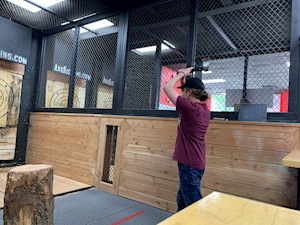 Split up into two teams, players would alternate throwers in a race to see which team could reach 100 points first. Much like darts, the closer your axe got to the target's center, the more points you earned. As the competition raged, the room filled with excitement and comradery. With every bull's eye came huge pops of applause. Smack talk was exchanged, and when the winning team began to celebrate, someone shouted, "Best 2 out of 3," kicking off two more heated rounds to decide the victors.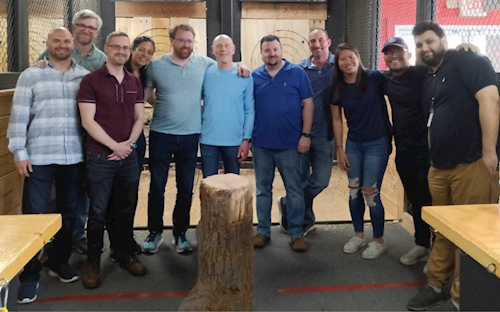 Once axes were sheathed, Vandis team members made their way onto the human foosball field. Much like actual foosball, opposing teams staggered across metal rods. Everyone held a fixed position on the rod and could only move laterally with the rest of the players beside them.
Players shifted frantically back and forth for control of the ball and the true soccer stars revealed themselves as goalies. Between frenzied kicking and accidental body shots, it became apparent that human foosball was somehow riskier than throwing axes. By the end of the game, players were panting, sweating, and in agreement that the gym could wait a couple days.
As the event winded down, the Vandis team caught their breath and shared some laughs. The team reflected on the fun they had and deemed this year's Summer Kickoff event a success. What will the Fun Committee come up with next?