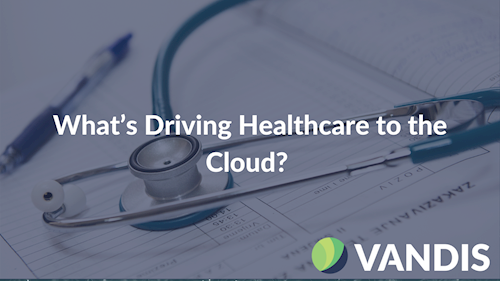 COVID-19 has accelerated the drive to digital transformation, which has introduced new networking and security challenges. Healthcare organizations are turning to new  networking solutions to help enable this process. 
Compared to other highly regulated industries, such as banking, healthcare organizations have been slow to adopt cloud computing. They are concerned that cloud implementation could lead to downtime and unavailability of data for a period of time. They also worry about the security of their environment and the protection of patients' confidential information. Due to HIPAA federal regulations, compliance is a must.  
Adding to these concerns, outdated legacy systems also present hurdles in supporting new standards and protocols to move data and other IT systems to the cloud to provide better patient health experiences and outcomes. 
COVID-19 has accelerated the drive to digital transformation, which cannot be achieved without a flexible and secure public, private or hybrid cloud infrastructure. For that reason, research shows that more than 35% of healthcare organizations hold more than 50% of information and infrastructure in the cloud, and the global market for cloud technology in healthcare has a growth expectation of $25 billion by 2023.  
What's driving the move to the cloud? 
Explosion in data: A vast amount of data is being accumulated through mobile devices that enable remote diagnosis, patient check-ins, treatment planning and network-attached wearable devices used to collect patients' data about their health. This information is securely transmitted to clinicians or technicians.  
 Of this profusion in healthcare data, Capital Markets says, "Today, approximately 30% of the world's data volume is being generated by the healthcare industry. By 2025, the compound annual growth rate of data for healthcare will reach 36%. That's 6% faster than manufacturing, 10% faster than financial services, and 11% faster than media & entertainment."   
Growing Need for Collaboration: Transforming healthcare to improve patient outcomes involves greater collaboration among healthcare professionals. Collaboration in healthcare also supports greater personal relationships between healthcare providers and their patients who provide input for shared decision-making and problem-solving about their care. Collaboration has reduced preventable adverse drug reactions, decreased morbidity and mortality rates, and optimized medication dosages.  
Surge in Telehealth: COVID-19 significantly accelerated the use of telehealth. A COVID-19 Consumer study conducted by McKinsey & Company in April 2020 found 46% of consumers were using telehealth to replace cancelled healthcare visits versus 11% in 2019. Even before the pandemic, the use of telehealth was on the rise. From 2016 through 2019, the use of telehealth grew from 14% to 28%, according to the American Medical Association.  
Cloud computing benefits  
 Cost of expanding data storage on-premise is prohibitive.  Not only is the initial setup cost for cloud data storage less than that for on-premise solutions, there are long-term costs savings. Cloud data storage services typically are pay as you go, so organizations can scale as they need without incurring additional hardware, rackspace and maintenance costs 
 Patient monitoring devices attached to networks require low latency and stable connections to send information without delay. A delay of even a few seconds could be life threatening. A traditional data center has a rigid design that requires a large investment to achieve low latency performance, which is especially problematic for people who are remote. The cloud provides a cost-effective low latency, stable solution since users can leverage the infrastructure of the public cloud as their backbone. 
 More remote patient meetings also require low latency and stable network connections. Content delivery networks are extending videoconferencing traffic out to end user's point of presence. Traditional setups can lead to high cost of bandwidth to support these meetings.  
 Getting over the network hurdle 
 The move to the cloud presents new networking challenges for healthcare organizations since traditional MPLS connectivity solutions are not designed for direct connectivity to cloud-based services and applications. To connect MPLS to cloud and SaaS applications and services, data must be backhauled to the datacenter, which makes MPLS expensive, time-consuming and reduces network traffic visibility.  
Driven by cloud adoption, more and more enterprises are moving away from MPLS backhauling internet traffic to Direct Internet Access (DIA) and Consumer Internet Access (CIA) at remote and branch offices. They are also opting for more flexible SD-WAN technology. 
Azure Virtual WAN is a networking service that allows customers to leverage Microsoft's massive global network to build high-speed transit network architectures to access cloud computing services. Virtual WAN allows healthcare organizations to connect branches to each other and Azure, centralizing their network and security needs with virtual appliances such as firewalls and Azure network and security services.  
Also available is Azure ExpressRoute, which lets companies seamlessly extend on-premises networks into Microsoft Azure. This connection between an organization and Azure is dedicated and private. 
Vandis Azure Quick Start Makes Connecting to the Cloud Easy and Secure  
Vandis' Hybrid Connectivity Quick Start alleviates the difficulty of securely creating connections between premise locations, datacenters and Azure environments via Azure Virtual WAN. Quick Start eliminates downtime and assures data is secure and available.  
If your network requires high bandwidth and low latency performance, Vandis can integrate or optimize an ExpressRoute connection for you in any designated Azure region.  
You can find out more about our Quick Start offering by calling 516-281-2200, emailing cloud@vandis.com or filling out the form below.