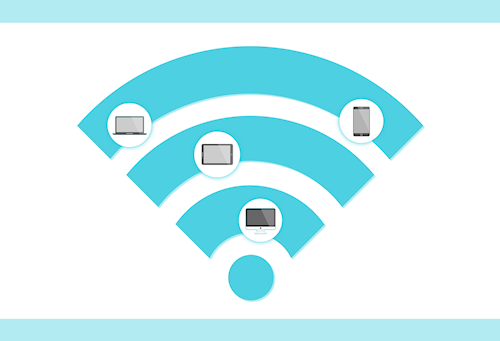 Today's working world is wireless. Gone are the days where people are bound to desktop computers and landline phones. Most, if not all, of business is done using wireless devices – and that's not going to change.
That's why it's more important than ever that businesses have the wireless network capacity and quality to support each person having multiple connected devices running at once. The latest advances in Wi-Fi are opening the doors for peak performance in this type of environment.
Aruba Networks recently launched a family of Wi-Fi 6 APs that create a high-performing, seamless experience.
What is Wi-Fi 6?
Before we talk about why upgrading to Wi-Fi 6 is beneficial for your organization, it's important to understand exactly what it is and what makes it different from previous iterations.
Wi-Fi 6 certification began back in September 2019, and devices are already being designed to support it. Apple's iPhone 11 supports Wi-Fi 6 and it's only a matter of time until other device manufacturers follow suit.
While Wi-Fi 6 still has the same basic functionality – to wirelessly connect you to the Internet – there have been a number of technologies added that will streamline and accelerate how this happens. Although a boost in speed is a great benefit of Wi-Fi 6, the update is more than just that. It's a future-focused upgrade that will carry nuanced benefits over time.
Here's what you can expect from your wireless network on Wi-Fi 6:
Faster speeds. This was previously mentioned, but it's worth explaining just how much faster the new Wi-Fi is. Whereas Wi-Fi 5 carried a speed of 3.5 Gbps, Wi-Fi 6 boasts 9.6. While it's unlikely that you'll ever need speeds at that maximum, it's important to note that the 9.6 Gbps can be split up between your entire network, so you'll likely see higher speeds per device. The increased speeds can be attributed to two new technologies: Multi-User, Multiple Input, Multiple Output (MU-MIMO) and Orthogonal Frequency Multiple Access (OFDMA). These advancements allow routers to communicate with multiple devices at the same time (MU-MIMO) and allows data to be delivered to multiple devices at once (OFDMA).
Improved battery life. Wi-Fi 6 reduces the amount of time devices need to keep their antennas actively transmitting and searching for signals. This means less drain on batteries, increasing the overall battery lifespan of your device.
Better security. Wi-Fi 6 was developed after WPA3, which was one of the biggest security updates to date in Wi-Fi history. WPA3 makes it much more difficult for hackers to use methods like constantly guessing passwords; it also renders the data less useful if hackers are able to get through to it. This is important because in order for a Wi-Fi 6 device to be certified by the Wi-Fi Alliance, it must have the WPA3 update.
Getting your business ready for Wi-Fi 6 with Aruba Networks
While Wi-Fi 6 isn't mainstream among businesses yet, it's a good idea to prepare your wireless network solution for it now.
Aruba Networks is providing companies the technology they need to embrace the Wi-Fi 6 revolution. They have announced the official certification of a family of Wi-Fi 6 access points. Installing these APs in your organization means that customers can interoperate with Wi-Fi 6 devices with no technical interruptions. Organizations will be able to enjoy the benefits of Wi-Fi 6 immediately, as some of the newer devices (Galaxy Note 10, Galaxy S20, iPhone 11) already support it. In addition, it will leave your organization prepared when other devices emerge that support Wi-Fi 6.
Aruba Air Pass was also recently announced, which helps reduce cellular coverage gaps, improves guest networks, and prevents having to manually search for a Wi-Fi network.
Organizations looking to tap into the full potential of their wireless network solution should be taking the leap to Wi-Fi 6 sooner rather than later. It's time to go above and beyond just high performing Wi-Fi and leap into a seamless and intuitive Wi-Fi experience. After all, the future of Wi-Fi is Wi-Fi 6, so it makes sense to prepare.
If you are ready to make the switch to Wi-Fi 6, contact us at 516-281-2200 or email info@vandis.com for more information.