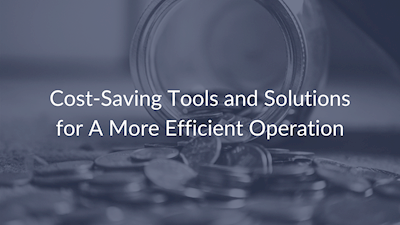 As businesses work to finalize their 2021 strategies and budgets, a common thread is unfolding among various industries: the need to save on costs wherever possible.  
Many companies are either facing COVID-related setbacks or trying to recover from them, while remaining fiscally conservative in the face of future uncertainty. We're seeing a lot of companies taking a step back to assess their needs, streamline, and size resources appropriately.  
This article will go through some key areas that your business can assess and offer solutions for reducing costs while still meeting needs. 
Cloud Environments
If your cloud environment is not sized properly, you could be wasting a lot of money. In fact, recent research suggests that 30-45% of cloud spend is wasted – and organizations aren't even aware of 15% of that waste.  
To help avoid cloud spend waste, we recommend taking a cloud assessment to help you understand your current cloud consumption and compare it to what your actual needs are. This assessment is one of the many ways in which Vandis is helping our clients get better ROI out of their cloud investment. To start your assessment, reach out to cloud@vandis.com and request one from our team.  
Once you have an understanding of your current cloud spend and where you can cut costs, you'll want to put measures in place to prevent future waste. A tool like Spot.io monitors your cloud environment to predict application resource needs. It automatically optimizes your infrastructure cost, so you don't have to worry about paying for waste.  
Identifying Gaps in Security to Prevent Costly Breaches 
If the past year has taught businesses anything, it's that you need to be prepared for just about any scenario in case disaster strikes. A security breach, although a different kind of disaster, can hit your company at any time. According to Digital Guardian, the average cost of a data breach in the United States in 2020 is $8.4 million.  
Therefore, it's more cost-effective in the long run to invest in identifying your security gaps and fixing them than having to recover from a breach. One tool that helps organizations identify vulnerabilities is Cymulate. With Cymulate, users can run a breach and attack simulation to evaluate their controls and identify gaps. Simply choose the attack vector you'd like to simulate, set up your simulation in minutes, and gain actionable insights. They currently offer a free 14-day trial for those looking to test out the platform. 
For a more in-depth overview of Cymulate's Breach and Attack Simulation Platform, please see our recent webinar.  
Utilizing NaaS to Manage Multiple Sites
Organizations with multiple sites can see their costs add up quickly by way of gear and manpower. Network as a Service (NaaS) can alleviate those costs. Through a single managed service subscription, organizations will receive management of their networking infrastructure including firewalls, switching, and wireless access points across all covered locations. 
Not only does that decrease equipment and manpower costs, it offers greater flexibility of your spending. With an option to finance the gear through an operational expenditure model, a NaaS subscription can ensure a predictable IT cost so you can better plan your budget with little to no surprises.  
Save Manpower on Mundane Tasks
When it comes to allocating costs and resources, your team is your most valuable asset. You want them focusing on the most important tasks and strategic initiatives that really make a difference. Unfortunately, IT teams often get bogged down with a number of mundane tasks that prevent them from achieving strategic goals.  
Managed Services can help handle the routine maintenance of your network to free up your team's time and focus. Managed Services can also assist smaller teams that could benefit from having some tasks taken off their plate. 
For example, the Vandis Managed Services team can assist with the following: 
OnCall: Support requests will be answered by an experienced Vandis engineer. Since our engineers are trained in a variety of solutions, they can help design a custom OnCall plan that best fits y

our needs.

 

ChangeOps

:

 

Have a team available to define, execute, and test the day-to-day functions of your network. 

 

SIEMaaS

 

and Managed SOC: Have a single platform for visibility into incident monitoring and management.

 
By finding a combination of these techniques that works best for your organization, you can save on costs without sacrificing function or security. For an analysis of what might be right for your 2021 plan and beyond, reach out to info@vandis.com for a free, no-obligation consultation.