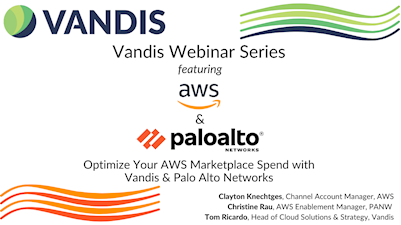 Purchasing and deploying networking or security solutions for your organization's AWS environment has become deceptively simple with the advent of the AWS Marketplace. With the click of a button, software from vendors like Palo Alto Networks can be up and running in a matter of minutes. Ensuring the deployment is done correctly and the solutions are properly managed, however, is more complex and requires a breadth of knowledge and a specialized skillset. Purchasing on the AWS Marketplace through a consulting partner like Vandis gives you access to competitive pricing, expert professional services, and money toward your Enterprise Discount Program (EDP) quota. 
In this webinar featuring presenters from AWS, Palo Alto Networks, and Vandis, you will learn how: 
Palo Alto Networks s

olutions such as Cortex XSOAR, Prisma Cloud, and Strata VM-Series

,

 

allow you to

 

add

 

layers of se

curity to protect your

 

cloud

 

investment

 

You can

 

retire your EDP quote

 

and

 

negotiat

e

 

custom pricing and payment

 

schedules

 

by w

orking with Vandis to purchase solutions through the Consulting Partner Private Offers (CPPO) program

 

Vandis

'

 

professional services

 

can be purchased through CPPO directly in the

 

AWS Marketplace

 

to

 

simplify

 

the procurement process

 

and

 

help you

 

accelerate your cloud

 

adoption

 
Vandis is an AWS Advanced Partner with a focus on networking and security. As a Palo Alto Networks Diamond Innovator partner, Vandis has expertise in multiple solutions across the Cortex, Prisma, and Strata product lines. We are proud to offer many products and professional services around Palo Alto Networks on the AWS Marketplace. To learn more about purchasing Palo Alto Networks solutions through Vandis' CPPO program, contact us at (516) 281-2200 or cloud@vandis.com.