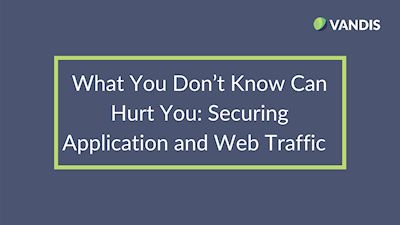 Organizations need to know without a shadow of a doubt that their network is secure. The growing dependence on internet-based communication and public-facing applications requires new solutions to maintain security.  
Vandis is helping organizations stay protected by recommending a defense-in-depth strategy. One common topic within these conversations is enhancing protection around web applications and services. Applications are a primaryattack target, so organizations need to take deliberate action to keep them secure. 
But staying secure isn't as simple as it once was. Attackers are constantly evolving and are now able to use security tools against an organization to execute an attack. For example, attackers can leverage SSL to get malicious files past a firewall.  
As a result, organizations need protection that is just as advanced as these threats. As a security expert, F5 offers some advanced security tools that help organizations stay ahead of attackers. Today we're going to take an in-depth look at two of those solutions: Advanced Web Application Firewall and SSL Orchestrator.  

Web Application Firewall
While traditional firewalls are important for maintaining good security posture, they aren't enough. Even NGFWs are unable to offer the types of protection needed to defend against OWASP Top 10 vulnerabilities for internet facing web-based applications or services.  
A Web Application Firewall (WAF) closes these security gaps by analyzing all traffic between applications and users, as well as protecting against the OWASP Top 10 exploits, bots, credential attacks, and application layer DoS attacks. With a WAF, organizations can get better protection for premise and cloud applications while accessing advanced reporting on application performance and threats. 
F5's Advanced WAF combines machine learning, threat intelligence, and deep application expertise for proactive bot defense, in-browser data encryption, and a comprehensive security offering. Some advanced features and capabilities include: 
Anti-Bot Mobile SDK for behavioral analysis

 

and

 

secure cookie validation

 

API protocol that secu

r

es REST/JSON, XML, and GW APIs

 

Stolen credential protection to defend against brute-force attacks

.

 

Powerful

 

iRule

 

scripting language that offers the flexibility to enhance and integrate other security products to improve your overall

 

posture

 

High-performing SSL/TSL decryption for Perfect Forward Secrecy, content re-writing, and authentication.

 
You can read more about the specific features of F5's Advanced WAF here. 
SSL Orchestrator
While encryption is essential for protecting traffic, it's also a way for attackers to hide their malicious files. Some organizations choose to execute SSL decryption on their firewalls for this extra layer of security but soon realize the performance hit it takes on their appliance. F5's SSL Orchestrator is a standalone appliance for encryption and decryption of SSL traffic, alleviating any bottlenecks or decreased firewall performance. 
F5's SSL Orchestrator decrypts inbound and outbound traffic for inspection by policy-based security controls and passes the traffic off to the firewall to perform threat analysis. The traffic is then re-encrypted and routed based on preset priorities to optimize performance. 
Benefits of F5's SSL Orchestrator include: 
Centralized encryption/decryption across multiple security tools

 

Intelligent management of decryption across the entire security chain via a contextual classification engine

 

Shorter change management processes by orchestrating the security stack

 

Centralizing t

he SSL/TLS decrypt/encrypt function to realize the full value of your other security investments 

 

Scaling security services with high availability, leveraging F5's best-in-class load balancing, health monitoring, and SSL offload capabilities

 
F5 is one of Vandis' trusted partners that deliver solutions to protect applications and networks. F5's Web Application Firewall (WAF) and SSL Orchestrator assist organizations in monitoring and inspecting traffic traversing their network to provide a much need additional layer of security. 
If you need assistance determining which solution is right for your organization or would like experts to assist in your implementation, fill out the form below to set up your free consultation: