The cloud adoption and IaaS markets are booming right now with a large selection of varying cloud offerings. Azure grows by approximately 76% from year to year; specific services within Azure grow by percentages in the triple digits each year. If you have ever considered migrating workloads to the public cloud, now is the time to act, and Microsoft Azure might be the cloud provider to choose.
Several instances could trigger a migration process  to the cloud – leading to a hybrid cloud environment or full deployment. Among the most common of these triggers are datacenter contract expiry, the need for software and hardware refreshes, the need to manage new security threats, and growing cost-saving efforts.
Microsoft Azure and Modern Cost Saving
Organizations need to examine whether it is more economical to re-up contracts and purchase updated hardware and software for an on-prem data center continually, or if migration of specific workloads to cloud platforms is the best avenue. Additionally, many organizations are hesitant to move data to the cloud because of increased security threats. The reality is that cloud computing allows you to add additional levels of security vs. storing data on-prem.
Moving to Azure and Microsoft 365 will modernize your workforce and allow your employees to be productive from anywhere at any time. You can access data and work efficiently from any device. Employees can engage more effectively and work better together with new communication and collaboration tools and features.
The utility-style billing model of usage allows you to pay for products and cloud services only when you use them; this may require some reorganization of budget but will ultimately save on both physical and monetary resources. Instead of buying new hardware, or storing unused hardware, Azure allows you to scale services up and down according to demand easily.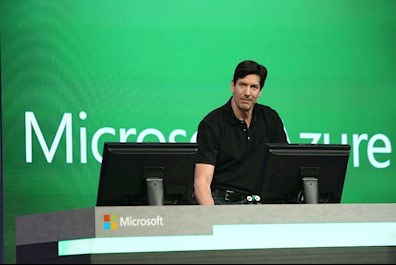 Always Ready with Azure in the Cloud
Azure provides you with enterprise-grade hardware on the internet. Saving on the cost of servers, storage, or backup media, as well as avoiding hardware maintenance costs, allows you to invest more in your business. Virtual Machine Deployment is one of the top gateways into cloud migration. Many vendors have virtual versions of their hardware that can be integrated with Azure to extend your existing processes without interruption.
Migrating data into the cloud brings new security threats, but it also brings new opportunities to add more layers of security. With Azure Files, your data and your business are secure with enterprise-grade protection in globally-located datacenters. Azure Files is a managed file server that users can access like a local drive.
Business continuity/disaster recovery is the number one gateway into an Azure migration; this always ensures that you have at least one copy of your data. If it makes sense for your organization, you can even move your fail-over datacenter location into Azure. With on-going cloud-based disaster recovery, you can rest easy knowing that your files are securely backed-up and can be recovered from any site, even in the case of a local emergency for more efficient site recovery.
Of course, there are several options when it comes to migrating your data into the cloud. Microsoft provides features and benefits that are exclusive to the Azure cloud. Azure is the only cloud designed as a hybrid model from Day One. Moving to the cloud is no small task, so Azure is designed to allow organizations to take it one step at a time with their on-prem and cloud environments working together seamlessly. Microsoft has been in business for decades, and it wants to help its existing customers make the journey quickly without affecting their day-to-day operations.

Building in the Cloud with Azure Services
Azure offers unparalleled developer productivity with integrated tooling, over 100 services, and unified management. Azure is the perfect environment for application development. Developing and testing an application on-prem would require purchasing the hardware needed to run the app; in Azure, you can set up your dev environment and shut it off again when you have completed testing for the application.
Azure also boasts more certifications than any other cloud provider, and it fits into virtually any compliance mandate. Of course, moving a workload to Azure doesn't automatically make it compliant, but it makes it easier to adjust the workload into the compliance framework than if you were to keep it on-prem.
One of the top roadblocks to cloud migration is a lack of resources or expertise. Teams are often not trained to migrate to – and subsequently manage – the cloud. Sometimes, there is not enough workforce to focus on cloud migration in addition to daily business initiatives. Azure offers a variety of tools that can help to assess your network situation and see if you are ready to make the shift, help with a migration when you are ready, and help to optimize cloud use once in Azure.
Working with a company such as Vandis can also ease the workload of migration into the cloud. Vandis can help you drive migration initiatives, including project management, technical consulting, and technical execution. Vandis can also manage your resources once they're in Azure with Managed Services offerings. Contact Vandis at (516) 281-2200 or info@vandis.com for more information on our various offerings around Microsoft Azure.