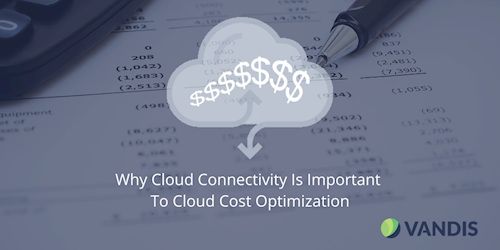 The shift to hybrid work environments, supply chain challenges, increasing standardization of the cloud, and of course cost benefits, have all been recent drivers for companies to migrate or re-platform their infrastructure to the cloud, and at a more rapid pace than in the past. While the cloud does allow for cost optimization towards an organization's workload, to truly take advantage of the optimization one must review all the associated costs. Not just those of the original infrastructure, but also of the cloud architecture, to understand the total cost of ownership. When you review the costs, you'll discover that some costs are apparent in the cloud, like storage and VM costs, but other costs are not so apparent, like cloud egress costs.
What are Cloud egress costs? 
Simply put, it is the cost per GB of moving data out of your public cloud.  Data ingress (importing into your cloud provider) is usually free.  Why is it free?  Well, it removes the initial barrier of you moving your data to the cloud, and once it is there, the more data you put in the cloud, the more monthly recurring revenue your provider receives. Cloud providers recoup network costs by charging egress costs as well as costs between regions. These network charges are not necessarily visible in a cloud architecture. It really depends on a workload's usage and where data is moving to. The standard egress fee for a Public Cloud Provider is somewhere between $0.08 - $0.20/GB depending on region. Let's compare the egress costs of AWS, Azure, and GCP.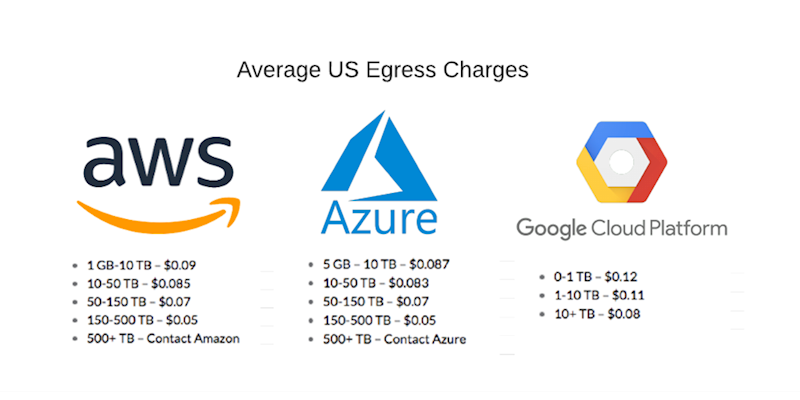 As you can see, this not only can become expensive to your business, but it can also become a burden to your existing enterprise network. However, there are ways to reduce costs and impacts on your network.
Options for optimizing with cloud connectivity tools
SD-WAN
Consider integrating an SD-WAN environment with the cloud's native networking tools. This could reduce your egress charges to $0.02-$0.04/GB. For Azure, that means integrating an SD-WAN solution with Azure Virtual WAN. Not only will you be able to reduce your egress costs, but you will also be able to optimize your SD-WAN pathing through Microsoft's global backbone.
For AWS, you can use Transit Gateway Connect to reduce your egress costs as well have your AWS environment route back into your on-premise enterprise network. This could effectively halve your network costs in AWS. 
With GCP, you can use the Network Connectivity center to connect an enterprise SD-WAN to shared VPC to create a hub and spoke.
It is important to note that to take advantage of these options, you need to use a third-party edge device from Fortinet or Cisco, both of which have integration into all three major clouds.  
Dedicated Cloud Connectivity 
For your users who need a lot of egress traffic or dedicated bandwidth, enterprises should look to get dedicated cloud connectivity like Azure ExpressRoute, AWS Direct Connect, and Google Dedicated Interconnect. These connections could allow you to lower your egress charges to less than $0.01/GB. The Azure ExpressRoute offers you an option to choose an unlimited egress for a set fee.  For large amounts of egress traffic, these solutions are almost always necessary to an enterprise network. With that said, if you select this option you will either need to get a circuit from your ISP, be in a connected datacenter like Equinix, or use a virtual routing solution like Megaport.
Virtual Desktop Infrastructures
The cost-effective way to avoid egress charges is to not egress traffic from the cloud. For standard workloads this is simply about offloading the application build to the cloud as well as offloading the dev and staging environments there. For hybrid work environments, your company could use cloud-based VDI solutions, like AWS Workspaces or Azure Virtual Desktop. The cloud native VDI tools integrate the advantages of VDI with the cost optimization of the cloud build.
Cloud egress costs can cause cloud bills to soar. Although not a hidden charge, it is often initially overlooked while architecting a cloud solution.  A well-architected solution should take into consideration the cloud's connectivity, not only for resilience and functionality, but also for cost optimization. Securely connecting the cloud to the rest of your enterprise network is Vandis' specialty. Contact us today to learn more about Vandis' cloud services and let us review your connectivity options to optimize your cloud architecture.