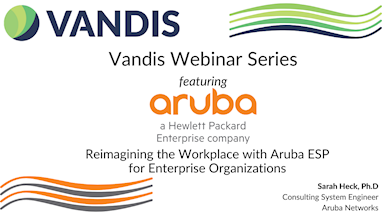 When the COVID-19 pandemic hit, Aruba Networks and Vandis worked together to help organizations make the shift to a remote workforce. With solutions like Aruba Virtual Intranet Access, Remote Access Points, and Instant VPNs, organizations could operate safely from home while maintaining company policies and security measures.  
As organizations return to the workplace and begin to determine what the future holds, one of the top priorities will be implementing contact tracing as part of their business reopening plans. Aruba's new solution allows organizations to leverage their existing infrastructure for contact tracing by providing two options: 
Utilizing Wi-Fi Access Points to trace wireless device location

 

and relay the information to Aruba Central AI via

 

AirWave

 

Utilizing wearable asset tags that use Bluetooth to beacon their location to the network via Meridian Cloud Solutions for real-time location data

 
Both solutions are highly accurate, with Wi-Fi pinpointing location within 10-15 meters and Bluetooth within 3-5 meters. Organizations can also set controls and capacity thresholds so they can be alerted whenever there are too many people in a location or social distancing protocols are not being followed. 
To see the Wi-Fi and Blue Dot contact tracing methods in action and determine if the solution may be right for you, fill out the form below for your instant access to the webinar.  
For access to a Vandis certified Aruba engineer and have a specific one on one discussion regarding your organization please reach out to info@vandis.com and we will set up free consultative call. 
Learn more about Aruba Networks' wireless solutions: