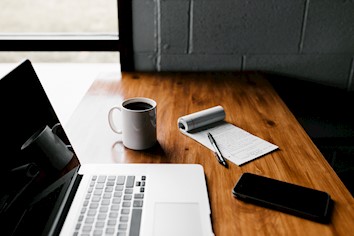 Remote work is no longer a temporary solution to deal with COVID-19, but a long-term strategy. Many organizations have already made the decision to stay remote through the end of 2020 or longer. Tech giants Twitter and Square were among the first to make the switch to a permanent remote work arrangement, which opened the doors for other large companies like Shopify, Upwork, and Coinbase to follow suit. 
Now, organizations of all sizes and industries are incorporating long-term remote work. But now that it's more than a rapid crises response and more of a long-term strategy, it requires more planning and careful decisions. Here are the top strategies and tools organizations should keep in mind when planning for long-term remote work.  
Secure your team's logins to protect personal information and company data
With employees working from home on their personal devices, it's more challenging to ensure that sensitive data remains secure. Multi-Factor Authentication (MFA) tools are essential for reducing the chances of hacking. By employing multiple methods of verifying identity, employees are protected by multiple layers of security regardless of their location, device, or Wi-Fi network.  
Below are some MFA tools to help secure your organization: 
Plurilock

.

 

Plurilock

 

is a hardware-free

 

MFA tool that uses behavioral biometrics to analyze patterns in keyboard, mouse, and touchscreen activities

 

to essentially

 

learn who is behind the keyboard

. When someone else tries to access that user's protected data or accounts, the change in user behavior

 

will flag a security response and block access. 

 

Azure Active Directory MFA.

 

AzureAD

 

provides secure access for all users and applications through a single sign-on.

 

Policy mangers can set risk-based access policies and conditional access to control security on a granular level. 

 
Protect against email phishing attacks 
Email phishing attacks have become an even bigger threat since COVID-19. Bad actors are using the pandemic to pose as legitimate organizations who claim to provide pertinent COVID-19 information in order to lure vulnerable individuals into a phishing scam. Email protection tools are an important part of detecting scams before they reach your end users.  
Below are two effective email security tools: 
Barracuda BTEP

.

 

Barracuda Total Email Protection (BTEP

)

 

bundles all the essentials you need to secure your organization's email, including Sentinel,

 

PhishLine

, Forensics and Incident Response, and additional features. 

 

Proofpoint.

 

Proofpoint Email Protection

 

provides multiple layers of security on inbound and outbound emails.

 

Their solution features email filtering, control, and visibility, imposter email threat protection, internal mail defense, and email continuity.

 
Keep your organization connected
To enable a remote workforce, organization's need an infrastructure that's reliable, fast, and secure. With remote workers typically using their personal networks, there's a higher risk of security breach. Remote access points and secure VPN access ensure all members of an organization get the connectivity and performance they need, without the security risk. 
Below are some remote access tools to consider: 
Secure, scalable access for BYOD initiatives
Virtual desktops are a great tool for business continuity as organizations transition to long-term remote work. They allow for security and regulation control, flexible device policies, and specialty environment designs 
Windows Virtual Desktop (WVD) allows for the management of an entire environment from a single pane of glass, offering the highest level of visibility, security, and flexibility. For more on Windows Virtual Desktop, see this article and webinar. 
Keep collaboration and productivity levels high
Without in person meetings or stopping by each other's desks, there needs to be some strategy around how to keep your team productive and working together. Microsoft Teams is one of the tools that allow teams to stay connected, collaborate, and maintain crucial business tasks. There are also a lot of features that allow you to customize your experience and work in the way that best fits your needs. You can learn more tips and tricks for Microsoft Teams here.  
Make sure you have visibility into your network and can monitor for issues
Even though your organization will be working via their own devices, they will still be part of your network. It's critical to have visibility into your network to monitor for issues – with the ability to take quick and effective action when needed.  
Below are two tools for monitoring your network remotely: 
SIEM as a Service and Managed SOC

.

 

Vandis' SIEM as a Service and Managed SOC 

is a powerful

 

securi

t

y

 

platform that

 

brings together Visibility, Correlation, Automated Response, and Remediation in

to

 

a single solution.

 

Read more about it here. 

 

Cortex XSOAR

. Palo Alto Network's

 

Cortex XSOAR

 

is a security orchestration, automation, and response platform with native threat intelligence.

 

With XSOAR, up to 95% of all response actions can be automated, for a more efficient use of SecOps teams' time. 

 
Have the ability to remotely deploy machines
Another challenge organization's face is how to get new devices up and running when hiring new team members remotely. IT departments will need tools to pre-configure new devices and users so new employees can be productive and secure from the start. 
Microsoft has two tools that help IT teams achieve this: 
AutoPilot

.

 

Microsoft's

 

AutoPilot

 

allows new devices to be pre-configured with little

 

to

 

no infrastructure to manage. This drastically reduces the amount of time spent on deploying or retiring devices and makes

 

managing a remote workforce much simpler. 

 

Intune.

 

Microsoft's Intune

 

is a cloud-based solution that allows a single endpoint management solution to securely manage iOS, Android, Windows, and macOS devices. It streamlines and automates deployment, provisioning, policy management, app

 

delivery

, and updates.

 
The team at Vandis has helped organizations of many sizes and industries make the transition to remote work with these tools and many others. To get started with a free consultation, call 516-281-2200 or email info@vandis.com.